ABB DPA250 S4 50kW to 1.5MW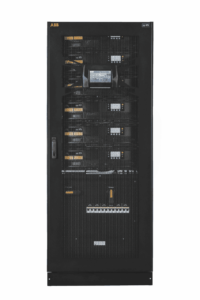 The most energy-lean UPS on the market

The DPA 250 S4 has a high-efficiency, modular architecture that offers best reliability for environmentally conscious organizations that also need zero downtime and low cost of ownership. The DPA 250 S4 is specially designed for critical, high-density computing environments such as small- to medium-sized data centers. 

The DPA 250 S4 sets the standard for the next decade of UPS progress with advanced features such as its transformer-free IGBT converters that feature three-level topology with interleaving controls to enable market-leading efficiency of 97.6 percent for the UPS module. This high efficiency reduces operational costs and minimizes environmental impact.

The DPA 250 S4 online double conversion modular uninterruptible power supply represents the latest technological innovation. This modular UPS is based on decentralized parallel architecture (DPA™), where every UPS module is practically its own UPS, having all the essential functional units needed for independent operation. DPA increases system reliability and availability compared to other modular UPS solutions in the market, as there is inherent redundancy between the UPS modules on all functional levels.
Description
Technological innovation and energy saving in action
Unique solution with superior benefits: 
Top-of-the-market 97.6 % module efficiency, and 97,4 % system efficiency, reduce direct energy losses by >30 % compared to comparable UPS solutions. As result, also costs for cooling infrastructure can be optimized and OpEx minimized thanks to reduced electricity costs.
A truly scalable power protection solution, from 50 to 1500 kW, guarantees future upgradability with a modular, decentralized paralleling architecture (DPA)
Reliable double conversion topology and DPA architecture with inherent redundancy across modules makes the system fault proof by eliminating singe point of failures.
50 kW power in one UPS moduleTruly scalable power featuring DPA.
250 kW N+1 redundant power In one UPS frame cabinet.
1500 kW power in one system By paralleling up to 6 frames.
Easy and fast to service and maintain with short MTTR thanks to on-line swappable modules, front serviceability and smart design.
Brochure