ABB Conceptpower DPA 500 100kW to 3MW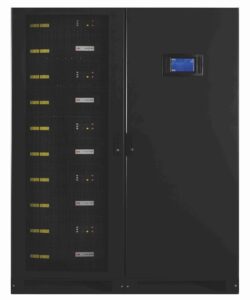 Conceived for medium-sized and large data centers, ABB's Conceptpower DPA 500 modular uninterruptible power supply (UPS) fulfills power requirements from 100 kW to 3 MW and provides maximum availability for those who aim for zero downtime as well as a low cost of ownership.


Total vertical and horizontal scalability
The Conceptpower DPA 500 delivers power protection from 100 to 500 kW (one to five modules) in a single cabinet (vertical scalability). Cabinets can operate in a parallel configuration to build a system of up to 3 MW (horizontal scalabiltiy).
True parallel architecture
The advanced UPS design of Conceptpower DPA 500 provides the highest degree of protection in critical applications where the load must be fed with quality power. This UPS system utilizes decentralized parallel architecture and ensures the highest level or reliability and availability with true redundancy across the modules.
Description
The three-phase modular UPS for critical applications
True modularity up to 3 MW
Now you can have a UPS size to exactly fit your needs: The Conceptpower DPA 500 is the only modular UPS on the market that can easily be scaled up to provide 3 MW of clean, reliable power.
This scalability means that there is no need to over-specify the original configuration as power modules can simply be added, as needed, in the future.
True parallel architecture
Reliability and availability are ensured by the Conceptpower DPA 500's proven Decentralised Parallel Architecture (DPATM). Each module contains all the hardware and software required for full system operation. They share no common components. Each UPS module has its own independent static bypass, rectifier, inverter, logic control, control panel, battery charger and batteries. With all the critical components duplicated and distributed between individual units, potential single points of failure are eliminated.
Highlights:
• 100 kW rated power module
• 500 kW rated power in single frame
• Extended power range: from 100 kW to 3 MW
• Unity output power factor (kVA = kW)
• AC-AC efficiency up to 96 %
• Efficiency in eco-mode ≥ 99 %
• Online Swap Modularity (OSM)
• Online serviceability
• Top or bottom cable entry (standard)
• Built-in back-feed protection (standard)
• Graphical display on system level
• DPA diplays in each module
• Maintenance bypass switch (optional)
Brochure